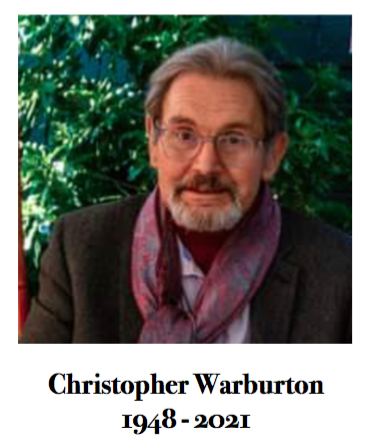 The CPA sends its heartfelt condolences to Hazel van Jaarsveld Warburton and family on the passing of Chris Warburton following a long illness borne with great dignity and courage.
As the Executive Producer of James Garrett and Partners (JHB & CT), Chris was a member of the CPA and its Executive Committee for many years from the 1980's through to the 2000's.  Chris played a very active and important role in the evolution of the CPA and the industry and was well liked and respected by everyone who knew and worked with him.
In addition to his very distinctive voice, Chris had a wonderfully dry sense of humour and his very English disposition provided an invaluable counter-point to his South African contemporaries.  Chris was old-school – he believed in doing things properly and was serious about the things that truly mattered.  His sardonic wit, usually accompanied by a slightly raised eyebrow, signaled his disapproval or faux horror at anything that was not quite as it should be. He used this to great effect but underneath his exterior Chris was always calm, kind and considerate.
Chris was one of the first people I met in the industry and has, over almost 30 years, remained one of the people in it that I most admire.  Despite his seemingly austere persona I always found him to be incredibly sincere and supportive.  Chris was quite a taskmaster but never criticized or condescended – although one always had to keep a close lookout for that eyebrow!
Chris was a perceptive listener and was fair, trustworthy, objective and principled – he would always offer well considered and sage advice and his intention was always good.
After his retirement from production, Chris returned to the industry as the co-ordinator of the ACA's electronic sub-committee for a few years.  It was great to work with him again after such a long absence. Illness eventually pushed Chris into permanent retirement although his presence is still keenly felt.  When confronted with a thorny problem I still often find myself thinking "what would Chris suggest we do?"
Thank you Christopher for all the time, energy and insight you gave to the CPA, the commercial production industry and to me personally.  Your influence continues and will endure even though you are no longer with us.
You are greatly missed but will always be remembered.
Rest in eternal peace.
Bobby Amm, the CPA Executive Committee & Members.