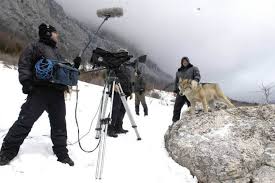 At the end of July 2017, the Performing Animals Protection Amendment Act 4 of 2016 (PAPA) was promulgated.
The new legislation has implications for the film industry.  Here are the CPA's top ten tips for production companies filming with animals.
1. Do your research beforehand – Many of the larger trained animals, like apes and elephants, are no longer available in South Africa. There is, of course, the option to create computer-generated animals, but this can be expensive and inauthentic.
2. Check the Advertising Standards Authority (ASA) Code if you are making a local commercial – Make sure that the animal action required is in line with the ASA Code, and remember that all animals (even small ones), are protected under PAPA.
3. Get experienced insight  – Use a professional production company that's familiar with the legal requirements.
4. Only use licensed professionals  – Use the services of a properly licensed and reputable animal handler (licences are renewed annually and must be valid on the day of the shoot).
5. Confirm that the handler matches the animal – Check that the animal handler is licensed to work with the animal you need. This will be noted on his/her documentation.
6. Check that the animal is responsibly sourced – Ideally, it will be provided by the animal handler.
7. Find an animal welfare officer – Ensure that an animal welfare inspector (who is recognised and approved by DAFF) is available to oversee your shoot.
8. Keep communication open – Provide the handler and inspector with all relevant information well in advance, and communicate with them constantly. This will prevent problems arising on the day.
9. File all relevant documentation – Keep a copy of the animal handler's and inspector's authorisations, and other relevant documentation, on file.
10. Keep all reports secure – Ensure that you get your welfare report from the inspector and keep it on file in case a query or complaint arises, as it's not possible to obtain one later.
To download the Act, please click here.